Rep. Tipsword and fellow members of the House Republican Truth in Public Safety, or TIPS, Working Group, today announced a new package of legislation they are championing to  meaningfully improve public safety in the state of Illinois.
"When given the opportunity to serve on and engage with this working group on these important issues, I jumped at the chance," Rep. Tipsword said. "I ran for office encouraging voters to send a Deputy Sheriff to Springfield, knowing that we need firsthand law enforcement experience down here to fix the issues, back our law enforcement, and restore sanity in the face of unending mandates on our local governments from bureaucrats in Springfield who don't understand what our first responders face in the field."
Rep. Tipsword said the Task Force focused on three specific areas in which changes are sorely needed:
Protecting Victims of Crime
The Real Pre-Trial Fairness Act
Recruitment and Retention of Law Enforcement Officers
New legislation introduced today includes House Bill 4050, sponsored by Rep. Tipsword, which would ensure school resource officers are properly accounted for in our body cam statues, protect undercover officers and operations, and improve efficiency in law enforcement operations.
"This bill will clarify that school resource officers should not be required to wear body cams. All of the students that would be captured in the footage are juveniles, so all of their images would need to be redacted, making the footage useless," Rep. Tipsword stressed. "Officers working undercover would also be excluded from body cam mandates, because others working undercover may inadvertently be recorded and compromised, and that puts lives at risk."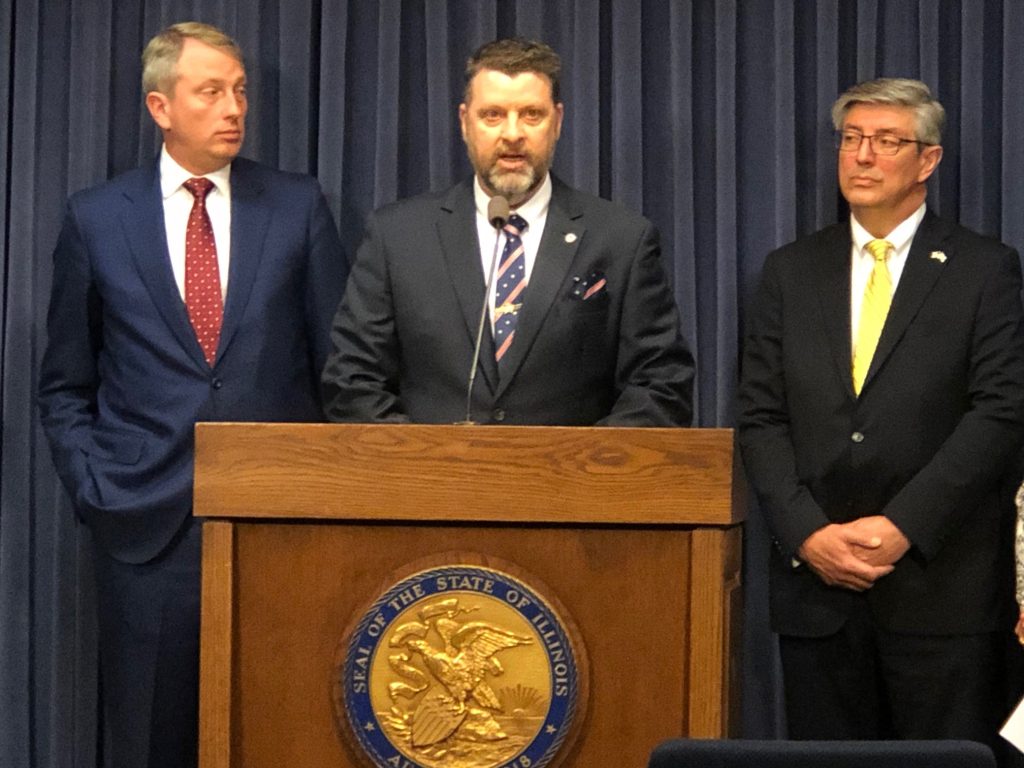 One other crucial component of the bill would allow officers involved in "use of force" incidents to review their body cam footage before filling out their reports.
"A 'use of force' report is the most critical report a law enforcement official will fill out in his or her career, and it needs to be an accurate description of what happened. In a high-stress situation recall can be limited, so being allowed to review the footage is especially important," Rep. Tipsword said.
In addition, Rep. Tipsword is sponsoring House Bill 3358 which would require each member of the General Assembly to complete annually a law enforcement ride-along and a simulation training program.
"These bills, along with the other bills we're proposing, are meaningful, suggestions to ensure we're supporting our first responders, and working with them for safer streets and safer neighborhoods…and that we're also fulfilling our responsibility to taxpayers," Rep. Tipsword concluded.
To see all bills included in the new House Republican Public Safety Package click here.